With nearly a decade and a half in the modular building business, Dynamic Modular Constructions stand as one of the leading manufacturers of prefabricated buildings. Starting from scoping and design to construction, delivery, and installation of modular buildings, we are proud to offer our services to a wide range of industries including commercial, construction, mining, and manufacturing industries, to name a few.
What is a Modular Building?
As opposed to traditional construction, where tradespeople bring and assemble all raw materials on-site, the majority of a modular construction project, roughly 90% to 100% of it, is manufactured away from the building site. In a factory-controlled environment, the entire finished building or modular units that form a complex of modules for larger projects are fabricated before being delivered and installed to the desired location. While many associate modular buildings with temporary structures, modern modular constructions can be permanent, just like traditional builds or even better.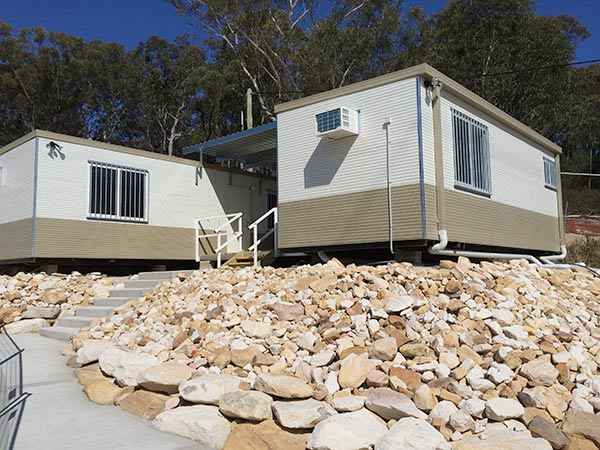 Our standard site sheds are ready to be up and running!
Modular buildings have been around for decades. But recently, it's gained more popularity in the commercial sector. The design of a modular building, with its fully furnished interior and fixtures already installed, is one thing that draws people's attention to it. To learn more about why modular construction is gaining popularity and the reasons why it is the best construction method for your upcoming projects, here are the advantages of modular construction:
Benefits of Modular Buildings
Time-Saving
Modular buildings can be completed within weeks compared to months with traditional builds. The whole build process speeds up mainly because the finished building or finished modular sections are manufactured before or during on-site preparations. Additionally, there is no possibility of delays due to unfavorable weather conditions with a modular construction approach, keeping the project right on schedule.
High Quality Construction and Materials
Modular units are manufactured in a controlled environment, ensuring continual quality control and using the most robust, commercial grade materials.
Sustainable Construction
Modular buildings allow the use of lean manufacturing procedures to create modular units, minimizing resource expenditures, especially for raw materials. The repetitive manufacturing process of modular units gives an opportunity to reduce raw material wastage. In addition, modular buildings are reusable and can be easily relocated or reconfigured without having to do environmentally invasive and complicated procedures such as demolition.
Cheaper Advantages
While the total cost of a modular building varies with the scale of the project, the types of material used, and the additional internal fitting and fixtures, modular construction offers more savings than conventional construction. With 90% raw material reduction and more than 50% time savings using the modular construction approach, significant savings can be realized.
Flexible Applications
Prefabricated buildings can be temporary constructions or permanent constructions. Either way, they can be easily reconfigured, repurposed, or expanded. Temporary buildings such as those used in construction sites, remote workforce facilities, and education or sporting grounds are designed to be portable and can be easily and conveniently relocated if needed.
If you are looking for the best service provider in the modular building industry, look no further! At Dynamic Modular Constructions, we are always here to assist you from design up to the installation of modular buildings, not to mention meeting short deadlines.
Do not hesitate to contact us!